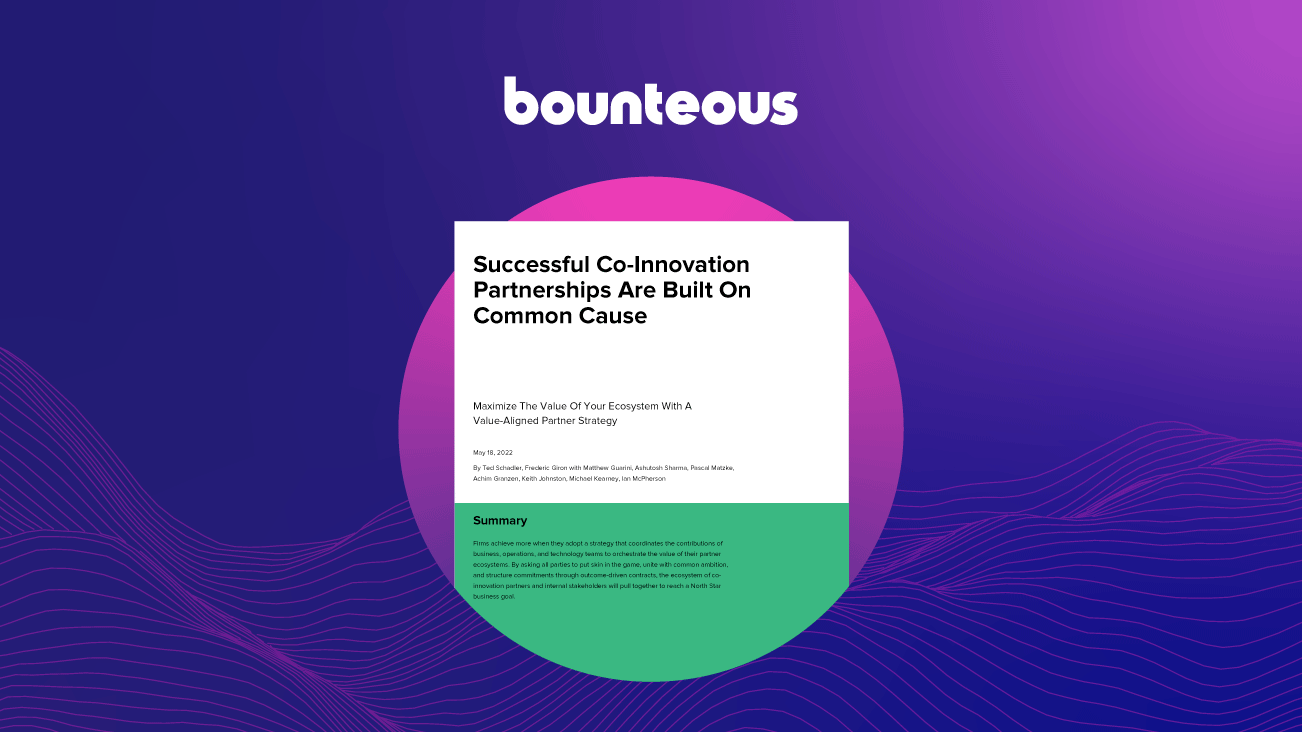 CHICAGO — June 1, 2022 – Bounteous is included in a recent co-innovation-focused report by Forrester, a leading global research and advisory firm, titled, "Successful Co-Innovation Partnerships Are Built On Common Cause." The report, authored by Forrester Vice President, Principal Analyst Ted Schadler and VP, Research Director Frederic Giron with contributors Matthew Guarini, Ashutosh Sharma, Pascal Matzke, Achim Granzen, Keith Johnston, Michael Kearney, and Ian McPherson, is a guide for business leaders while they seek value alignment with their partners through shared business goals.
Co-innovation is a set of principles that can apply across all industries to the foundational rights that create successful partner relationships. Bounteous is a leading proponent of the Co-Innovation engagement model to create successful digital transformations. Throughout the report, Forrester outlines numerous principles that align with Bounteous' approach to co-innovation, including common ambition, trust through transparency, shared risks and rewards, and having executive leadership's involvement in the process.
"It's a huge compliment for Forrester to include Bounteous and our client in this report," said John Telford, EVP, Growth at Bounteous. "We undoubtedly believe that Co-Innovation is essential to digital innovation and that we can uniquely unlock value for clients in this space."
Bounteous is a global leader in co-innovation, commerce, and customer experience, employing more than 1,700 team members, helping the world's most innovative brands such as Domino's, Mars, and Shake Shack create transformational experiences.
The report is available online to Forrester customers or for purchase here.
About Bounteous
Founded in 2003 in Chicago, Bounteous is a leading digital experience consultancy that co-innovates with the world's most ambitious brands to create transformative digital experiences. With services in Strategy, Experience Design, Technology, Analytics and Insight, and Marketing, Bounteous elevates brand experiences through technology partnerships and unparalleled platform expertise. For more information, please visit www.bounteous.com. For more information about co-innovation, download the Co-Innovation Manifesto at co-innovation.com.
For the most up-to-date news, follow Bounteous on Twitter, LinkedIn, Facebook, and Instagram.